Welcome
For Accommodations in Cambridge Bay, Nunavut,
on Canada's Arctic coast,
look no further than Green Row Executive Suites.
Your personal home North of the Arctic Circle
[easingslider]
Green Row Executive Suites
offers comfortable apartment-style accommodations,
by the night, or by the week, with the amenities you would find in a well-run hotel.
Accommodations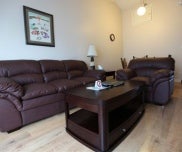 When the demands of a busy day play havoc with your schedule, you'll appreciate the comforts we build into each of our suites. Fix yourself a snack or a home-cooked meal in your fully equipped kitchen. Take care of your laundry right in your suite, while you relax with your favorite satellite television program.
We have a total of 18 suites: 2 bedroom and 1 bedroom units are available.Stop in to our new Restaurant " Saxifrage Resto Cafe "  were we also have an additional  7 new rooms for our customers who require meals.
2016 Kitikmeot Trade Show  – February 8th to 11th
Please call or contact us for current rates